Awesome of Magic Border's "Joe"
ISDS: 322454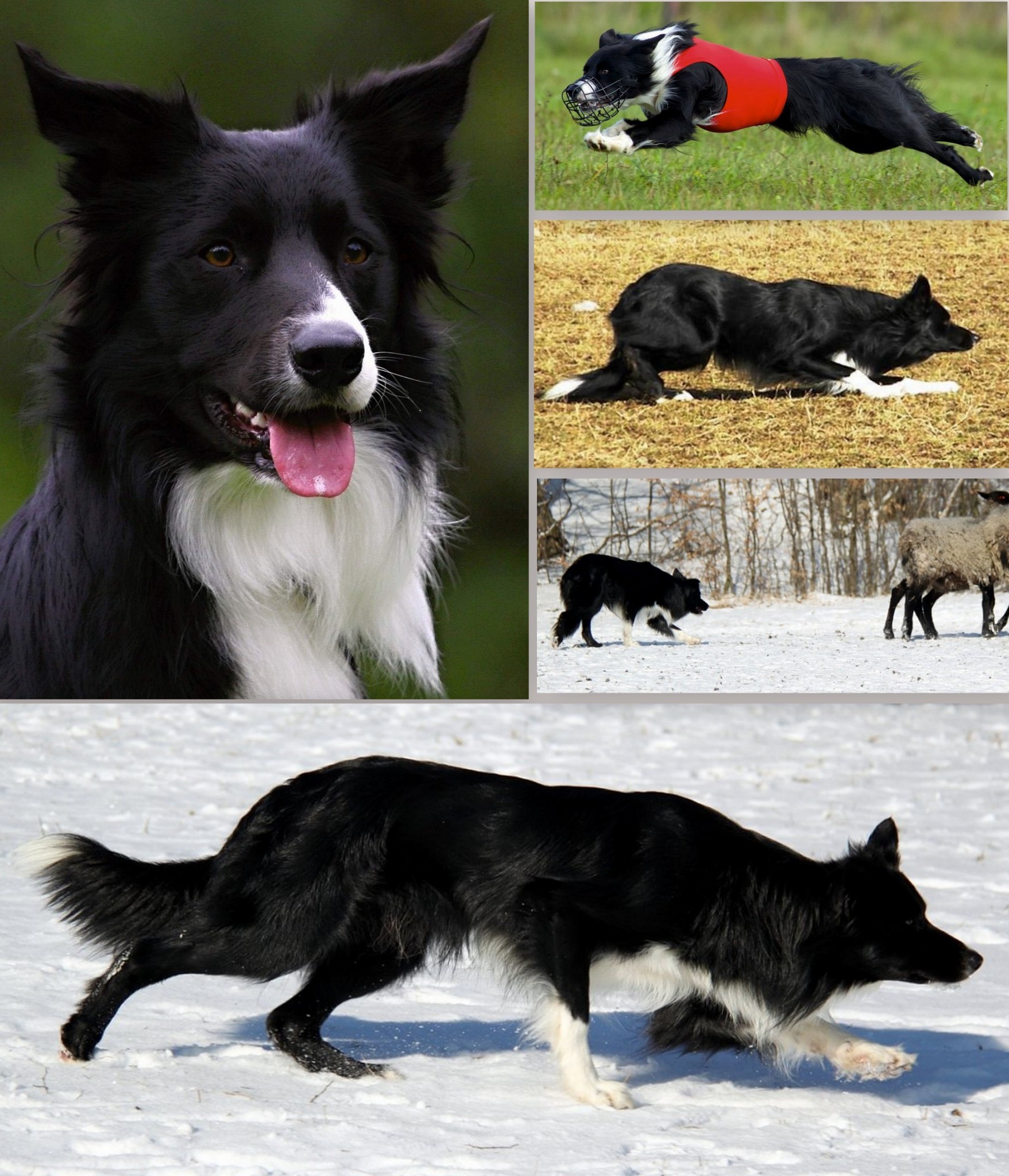 FCI: ÖHZB/BORC 3261 - import AUT
Date of birth: 24. 7. 2012
Color: black and white
HD: B
ED: 0/0
OCD: free
Spondylosis: free
DNA CEA: Normal (after his parents)
DNA CL: Normal (Genomia test)
DNA TNS: Normal (Genomia test)
DNA MDR1: Normal (Genomia test)
DNA IGS: Normal (Genomia test)
DNA DM: Normal (Slovgen test)
DNA MH: Normal (Slovgen test)
PRA, CEA, C, LL, Glaucoma: negative (2012, 2014, 2016)
complete cardiological examination - all perfectly okay
thyroid gland examnation - perfectly okay
Full dentition, scissors bite
EXAMS: ZVOP, HWT CS, IHT 1, IHT 2, Trial 2, coursing licence, COURSING WINNER 2014!
herding:
Skude Trial IHT 1: 1st place (12!), 95 points, score: excelent
Martínkovice IHT 2: 1st place, 86 points
coursing:
Gade's memorial: 1st place dogs FCI I, absolute winner I. FCI group
Cup of st. Roch: 1st place in category border collies, the best dog of the race from all breeds
Medlanecky Sysel: 1st place
best border collie at national championchip 2015
Moravia Championchip: 2nd place at Moravia Championchip

Sire: Int.Sup.Ch., Scott.Nat.Ch. Joe ISDS 272330 (UK)
Dam: U-Dianne of Magic Border's ISDS 303403 (AUT)

Joe is a young dog imported from the well known handler and the international arbitration in herding Marion Fuchs. He has FCI and ISDS registration.
I planned another dog from purely working line for a long time, I was looking in different countries for a couple years, but I still couldn´t find a good suitable connection, from where I´d like to take a dog for me. I was very exacting in finding a perfect future dog and it was hard because I didn´t like one of the parents of the dog most of the time. At that time I finally found one at a cover channel called Magic Border´s in 2012, and which I was completely happy about. They are such a great paternal and maternal ancestors in herding so the future puppies with this pedigree could be a good success. I am really happy and proud that my dog managed to get such a great pedigree from them.
The dad is a great male, scotish dog called Bobby Dalziel´s Joe ISDS 272330, who won a title called International Supreme Champion at the age of 2,5 years, and won twice the scottish national championship in 2009 and 2011 and got the title Scottish National Champion, he´s a winner of more than 80 open trials (trial 3) in the UK and Europe aswell. Joe won the prestigious competiton and another title called Royal Welsh Show "Champion of champions" in 2010.
The mother is a young austrian female called Dianne ISDS AT 303403, who is a succesfull competetor since she was two years old in the highest category trial 3, loads of won competitions twice in a row – she won a prestigious competition ÖCBH Hüte Cup in 2012 and 2013. In 2014 she won the 2nd place in herding in Austria and I think she has a perfect future ahead. Dianne´s father is a very succesfull and a adored dog by myself, a dog living in Wales called Kevin Evan´s Mirk ISDS 272003, who won the final of the competition called International Supreme championship and can proudly be called International Supreme Champion of 2008. This dog was qualified into a final competitions of World Trial in 2008 and 2011, where he won the 6th place in 2011 and has got other succesfull successes. Diannes´s mother Samantha ISDS 301491 (trial 3, austrian champion in trial 2) becomes from a very well known handler Karin Mattson from Norway and it´s a daughter of a great legendary female Yojimbo Sammie ISDS 300487 (well known as a Super Sammie), born is Sweden. Sammie has lots of successes, one of the biggest succeses of Sammie is the 7th place from World Trial in 2008, 5th place in qualification for World cup 2008, she won twice the title Continental Young Handler Champion, she used to compete under swedish and norwegian national teams, and she ended up on 3rd place at this year´s Cup of veterans. Karin Mattson won with Sammie titles Best Lady Handler of the Continetal 2009 and the Best Lady Handler at the World trial 2008. And this is still not all the succeses of Joe´s ancestors. Joe´s aunt Uni represented her country at the Agility World cup 2012 when she was only three years old.